2020 Krist Kindl Virtual Shopping Extravaganza
It's not exactly the kind of "bah humbug" that's become the hallmark of 2020, but it's still a holiday bummer: Copperas Cove's beloved outdoor holiday festival and shopping extravaganza, The 26th Annual Krist Kindl Markt, is having to be modified amid the ongoing COVID-19 pandemic. Therefore, ALL NEW This Year we created this Online Holiday Shopping & Resource Page.
While the physical location of this year's event has substationally changed and space is very limited, we hope you join us on our website and social media channels..... where everyone is invited to interact and experience the tradition of our Annual Krist Kindl Markt. We wish everyone a very spirited season filled with hope, joy, good health, prosperity, and lots of Holiday Cheer!!!
                                                                                     SPECIALTY RETAIL
CLICK ON THE REGISTERED VENDOR BUTTONS BELOW TO BROWSE & SHOP.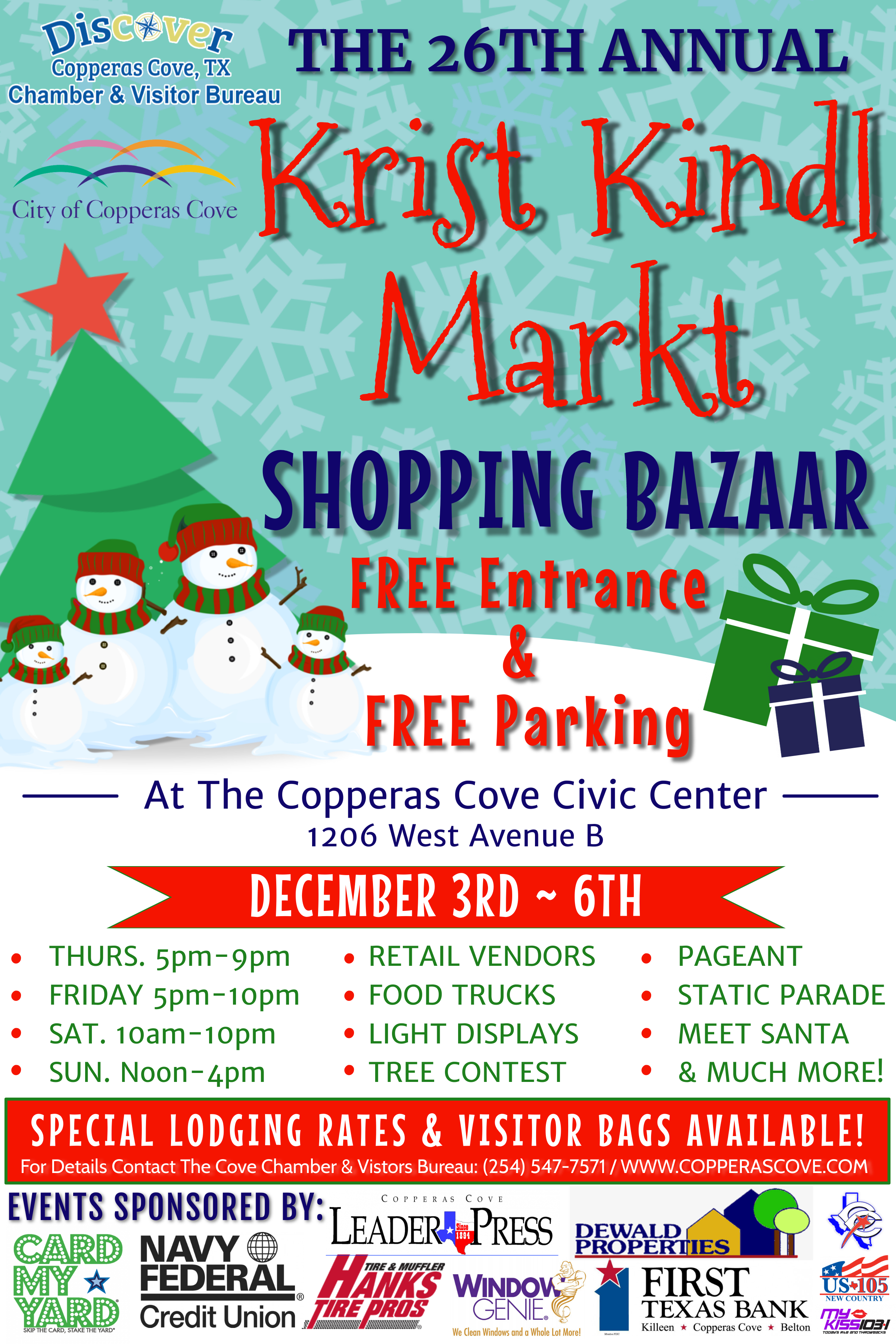 CLICK ON THE BUTTONS BELOW TO DISCOVER COPPERAS COVE!
CHECK OUT THE 26TH ANNUAL KRIST KINDL HOLIDAY VIDEOS 
Click On The Image Below To View.
VIRTUAL Tree Lighting & Opening Ceremonies
Thursday, December 3rd @ 7:00pm
This is a Virtual Event ONLY and will be lived streamed on the Cities and Chambers Facebook and Youtube Sites.
The Holiday Lights & Displays In The Copperas Cove City Park Can Be Viewed At Your Leisure Starting November 26th - January 3rd.
Thank You To All Our Generous Event Sponsors For Their Support, Without Your Kind Investments These Holiday Festivities Would Not Be Possible!!! Please Click On The Logos Below To Learn More About Our Sponsors.